There are many people who like expanding their collections of card decks. They strive to buy every possible deck of cards, including those that are considered extremely rare. Logically, the latter are much more expensive than the regular decks. Nonetheless, this doesn't seem to be an issue for these enthusiasts. In the next sections, we will put emphasis on some decks containing the most expensive playing cards. All of them fascinate players with their splendid design and top-notch hand-made illustrations.
Why Splurge On a Deck of Cards
Most individuals probably do not know that there are a number of valuable card decks that enthusiasts pay a fortune to own. There are even 24k gold playing cards. Such rare items come at a high price, of course, because they are limited edition products. This means that there aren't many people who would be able to afford to buy such expensive poker cards.
Therefore, whenever a new deck of expensive cards is launched, collectors who like to play blackjack and poker are the first ones to obtain it. For many this may seem pointless, however, people who are into gambling are immensely fascinated with such high-priced items. Below, we list five super rare and expensive decks of cards. We will focus on their design and share their current prices, as well.
The Most Expensive Decks of Playing Cards
Venexiana Gold
White Centurion
Zenith
Smoke & Mirrors Gold Private Reserve
Unbranded Black Reserve Note
The Most Expensive Decks of Playing Cards
It is really hard to say which is the most expensive set of playing cards. The reason being is that these limited edition products vary when it comes to their price. That's because some collectors who own more than one copy set different prices on the extra deck they wish to sell. Therefore, on different online platforms, you may see the same decks of cards but with different prices attached to them.
It is up to you to choose which one to get. Nonetheless, one should keep in mind that the cheaper ones may have some kinds of defects on them, such as foldings, stamps, and so on. To avoid any disappointment, potential buyers should ensure that the seller is reliable and has a good reputation on the respective site.
Since the majority of the valuable playing cards are sold out, it will be almost impossible to buy a deck from the creators. This would mean that the only option left for enthusiasts will be to get a set of cards from another collector. In the next table, we have listed the five most expensive decks of cards in the entire world. As you can see, their prices may vary from $150 to $900. People who prefer to play on the best online blackjack sites rather than using their valuable cards will have no trouble keeping these expensive decks in perfect condition.
| DECK OF PLAYING CARDS | PRICA RANGE: |
| --- | --- |
| Venexiana Gold | $425 – $750 |
| White Centurion | $250 – $420 |
| Zenith | $190 – $300 |
| Smoke & Mirrors Gold Private Reserve | $150 – $400 |
| Unbranded Black Reserve Note | $250 – $300 |
Venexiana Gold
The first expensive deck of playing cards we will focus our attention on is the Venexiana Gold set. Ever since its release it was pretty clear that this will become one of the most high-priced sets of playing cards ever made. The reasons for this are several. First and foremost, according to the creator, the overall number of decks created equals 212. Unquestionably, this is an extremely small amount, considering how many expensive cards collector there are.
Secondly, each and every deck was sealed in an amazing gold-foiled tucked box. That was crucial not only for the final look of the product but it also allowed buyers to keep their cards looking as good as new. The designer has put tons of effort into the creation of the cards' design. As he stated, the faces on the cards have been inspired by the well-known Venexiana masks.
And last but not least, the Venexiana Gold decks contain nothing but gold-plated playing cards. Every single card is hot-stamped with gold foil on the back, which makes the set a real treasure for collectors. At present, the price of the gold deck of cards varies between $425 and $750.
White Centurion
White Centurion is one of the most well-known creations of Theory11. It is inspired by their most expensive Bicycle card deck. When it was first launched, the White Centurion deck of cards was not expensive at all. In fact, its price was less than $10. According to the information presented on the official site of the designers, the total number of White Centurion decks is no higher than 1,100.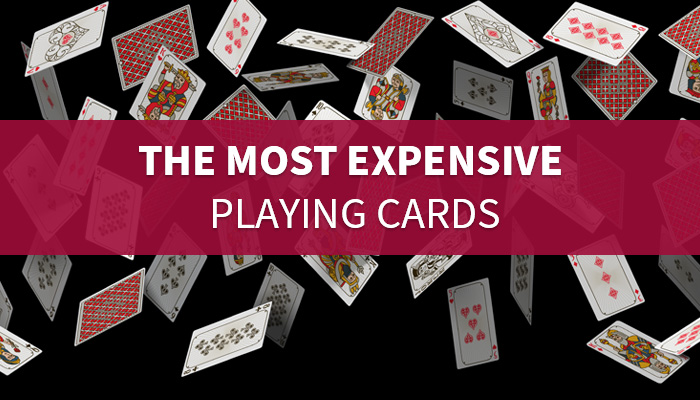 Nonetheless, as expected, the sets were bought off pretty swiftly, and right now, they are not available on the platform. Those who wish to obtain that rare deck of valuable playing cards should try out their luck on other platforms. The prices there, however, vary between $250 and $420. Gambling enthusiasts are ready to pay the price just to add this masterpiece to their collections.
The design of the cards is incredibly simple yet mesmerizing. There aren't any complicated drawings and extra colors, which is perhaps one of the reasons why this is considered one of the absolute best decks of cards in the world. Although the product was released more than ten years ago, it is still talked about even today.
Zenith
Paul Carpenter has done a tremendous job with the creation of the Zenith deck of cards. It is the first set from the Encarded Signature Series, and after the launch of more than 1,000 decks, Zenith was not re-printed. Its design is completely inspired by ancient motifs and Indian designs. The backs of the cards are illustrated with scale medallions and other surrounding elements.
Although the colors used for the cards are black and white, the back design surely makes the Zenith decks works of art. Additionally, the authentic box is quite impressive, as well. it's black with a colorful scale medallion drawn on it. Zenith is now available on platforms such as eBay, and its price fluctuates between $190 and $300.
Smoke and Mirrors Gold Private Reserve
Smoke and Mirrors Gold Private Reserve is another deck with the most expensive playing cards in the world. It is an extremely successful product of Dan & Dave whose first signature set of cards was named simply Smoke and Mirrors. Both of them were welcomed with great enthusiasm by collectors, but the second one is still prominent today.
The Smoke and Mirrors Gold Private Reserve deck can be bought for $150, $200, or even $400, depending on the price set by the seller. The number of copies released by the creators was 2,500, and at first, they were not sold to the general public. Each card may be considered the most expensive playing card ever sold due to the fact that all of them are gold-foiled. All Dan & Dave's decks come in a sealed box and a certificate of authenticity.
Unbranded Black Reserve Note
The Unbranded Black Reserve Note would be the ideal gift for gamblers who like collecting decks with innovative and truly spectacular designs. This set of cards is one of the most beautiful ones ever made. Starting from the black box with bright red elements and going all the way to the incredible illustrations drawn on every single card from the deck.
It is believed that this is the most expensive deck of playing cards by Jackson Robinson. This is far from surprising considering just how spectacular Unbranded Black Reserve Note is. Currently, the lowest price for a deck equals $250. The highest, on the other hand, may reach and even exceed $400. The truth is that it is not quite easy to find an Unbranded Black Reserve Note deck for sale. The total number of sets created by the designer is 1,550 and all of them were sold in a very short period of time.
FAQ
We hope that we have managed to spark your interest by presenting the top most expensive decks of cards in the entire world. To finish this post properly, we will also answer a few questions regarding the most valuable playing cards. We will do our best to be as informative as possible with our answers.
How to buy a deck of expensive poker cards?
If you wish to add a deck of expensive cards to your assortment, you should know where to look for it. The best platforms you can explore are eBay and Amazon. However, we recommend you consider the seller's overall reputation on the website to avoid any disappointment.
Why is Venexiana Gold so expensive?
Venexiana Gold is one of the most expensive deck of cards in the world. One of the reasons for this is the fact that every single card is gold-foiled. Additionally, the illustrations on the cards are true masterpieces inspired by the Venexiana masks.
Why do people buy expensive playing cards?
The number of people who like to collect valuable playing cards is not inconsiderable. Many gamblers who love playing blackjack, poker, or other card casino game are fascinated with the idea of having as many rare decks of cards as possible.
How many copies of Smoke and Mirrors Gold Private Reserve were created?
The total number of Smoke and Mirrors Gold Private Reserve copies that were made by the creator equals 2,500. It won't come as a surprise that all of them were sold out in no time. Right now, the price of a deck varies between $150 and $300.
Which are the two most expensive decks of cards?
Venexiana Gold and White Centurion are two of the most high-priced decks of playing cards in the world. They are both splendid in terms of design, package, and overall look. Depending on the seller, the price for a White Centurion set of cards may be somewhere between $250 and $420.
https://www.minesgames.com/
https://www.luckycola.asia/?referral=gg06908