Is Surrendering after Splitting or Hitting Possible in Online Mines Games Tips Blackjack
Also known as 21, blackjack outcompetes all other table games in terms of popularity. It is considerably more engaging than roulette and baccarat as it requires a good deal of decision-making and strategic play that further reduces its already low house edge.
Hitting, standing, splitting, doubling, and buying insurance are the most common moves players can make in standard blackjack. Surrendering a hand is also possible in some cases, but few blackjack variants allow the move since it works to the advantage of players and minimizes their long-term losses.
As the name itself implies, surrender is an optional move that allows the player to forfeit half of their bet after seeing their first two cards and the dealer's exposed card. This is usually possible immediately after the initial deal before any other playing decisions have been made. While extremely rare, surrendering after hitting or splitting is also an option in some online blackjack variants and we shall explore them in today's article.
Standard Surrender Rules in Online Blackjack
When available, the surrender move must normally be made at the very beginning of the round before the player has taken any other action on their hand. Surrendering is a viable move when you are dealt very weak starting hands against particularly strong dealer upcards.
The dealer will then remove your two cards from the layout, collect half of your bet, and give you back the other half. The surrender option, when exercised properly, reduces the house edge and helps you minimize your losses.
It typically becomes available only after the dealer has peeked under their hole card to check for a blackjack, i.e. players cannot surrender in the event of a dealer blackjack. The two standard variations of the rule are early surrender and late surrender.
STANDARD SURRENDER VARIATIONS
EARLY SURRENDER
LATE SURRENDER
Early Surrender enables the player to forfeit a hand against a dealer's ace or ten before the dealer peeks under the hole card to determine whether he or she has a blackjack. The rule is very favorable to players and cuts down the house edge by more than half a percent.
Unsurprisingly, early surrender has become obsolete in US-style blackjack where hole cards are in play. The rule is more prevalent in no-hole-card blackjack variants where the dealer draws their second card only after all players have acted on their hands. Online players can find early surrender in Big 5 Blackjack by Microgaming.
House Edge (HE) Reduction with Early Surrender
Early Surrender vs. the Dealer's 10
-0.24%
Early Surrender vs. the Dealer's Ace
-0.39%
Aggregate HE Reduction
-0.63%
The correct use of late surrender in multiple-deck blackjack is as follows:
Hard 15 vs. 10 if the dealer must stand on soft 17 (S17)
Hard 16 vs. 9, 10, and aces in S17 games
Hard 15 vs. 10 and aces if the dealer must hit soft 17 (H17)
Hard 16 vs. 9, 10, and aces in H17 games
Hard 17 vs. aces in H17 games
Pairs of 8/8 vs. aces in H17 games
RARE VARIATIONS OF THE SURRENDER RULE
1Available Only at Specific Casinos
In addition to early and late surrender, there are several other variations of this player-friendly rule. Some of them are rarer than hen's teeth and available only at specific landbased casinos. Others, like surrendering after splitting, hitting, or doubling, are supported by certain online variants of the game and we shall cover them shortly.
2Macau Surrender
Macau Surrender enabled players to forfeit any hand containing five cards as long as their total value did not exceed 21. We are intentionally using past simple tense as this version of the rule has now become obsolete.
3Early Surrender Against a Ten
Early Surrender against a ten is pretty much self-explanatory. You can forfeit a lousy starting total against the dealer's ten. This variation of surrender is usually available in European-style blackjack games where no hole cards are in play for the dealer. You cannot exercise this move against the dealer's ace, though.
4Surrender After Hitting
Surrender after hitting is when you can forfeit a hand after any number of hits as long as its total does not go over 21.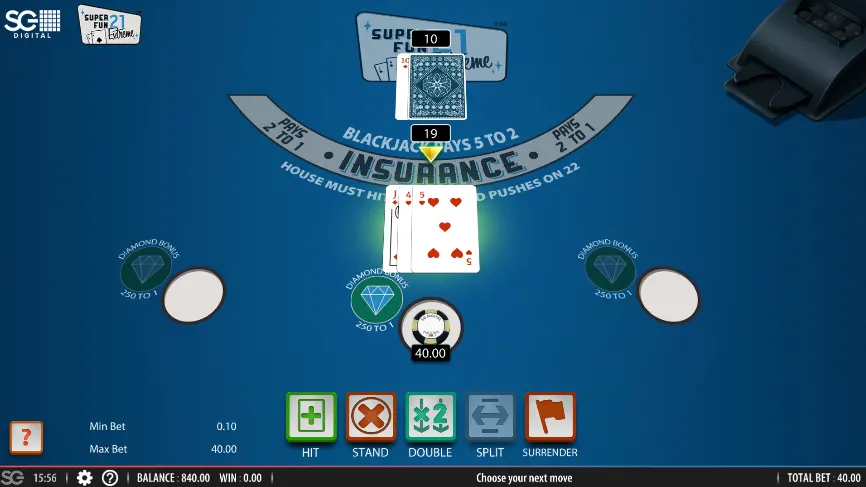 5Surrender After Doubling
Surrender after doubling is quite unambiguous as the rule allows you to forfeit a hand you have doubled down on. The dealer collects only the double down wager and gives you back your original bet. This rule variation is also known as Double Down Rescue.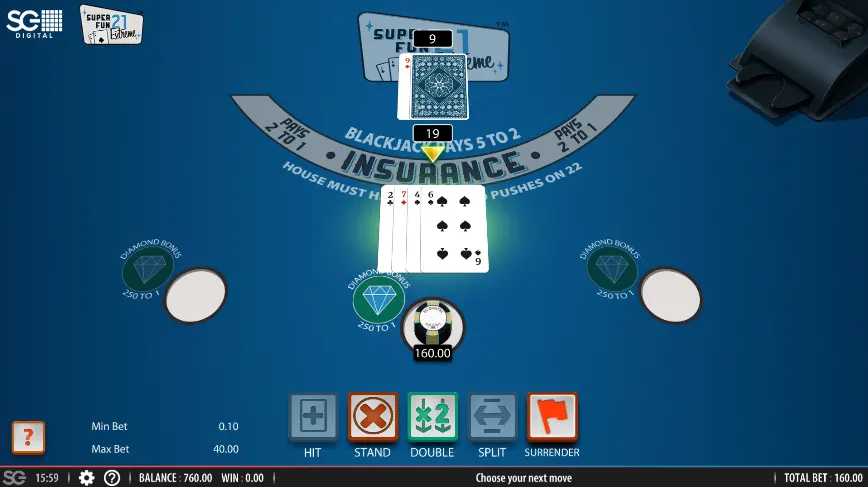 6Surrender After Splitting
Surrender after splitting enables players to exercise the surrender move after they have split a pair of cards of equal denomination. You can forfeit one hand and finish playing the other, although surrendering both split hands is also possible.
7Surrender After Buying Insurance
Surrender after buying insurance is also quite obvious. Here you can fold a hand you have already insured. For clarification, insurance is available on any player hand when the dealer starts with an ace. Insurance costs half of your original wager and pays at odds of 2 to 1 if the dealer has a ten in the hole for a blackjack. If not, you lose the insurance bet and play your hand as normal.
8Casino Surrender
Casino Surrender allows you to forfeit any two-card total of twenty against a dealer who shows a ten but does not have a blackjack. Experts recommend against this move as it is largely considered detrimental to players.
RNG Blackjack with Surrender after Splitting and Hitting
As we told you already, surrender is a rare rule that few online blackjack variations support even in its conventional form. This is not to say more exotic variants of the rule are unavailable to online players. You can find more flexible surrender options in a blackjack variant called Super Fun 21.
Two randomly generated versions of the game are available on the internet. One was developed by SG Digital, while the other is courtesy of Microgaming, but their rules mostly overlap. Let's have a closer look at SG Digital's version before we proceed to discuss the accurate surrender strategy for Super Fun 21.
Live Dealer Blackjack with Surrender after Splitting and Hitting
If randomly generated blackjack is not your thing, you can enjoy more flexible surrender rules at live dealer casinos powered by Visionary iGaming (ViG) that offer Early Payout Blackjack. In essence, this live game is quite similar to standard variations with surrender, the main difference being players can forfeit their hands at any stage as long as the live dealer has not completed their hand.
Another interesting twist in Early Payout Blackjack is that the player does not necessarily forfeit precisely half of their original bet. How much you get back depends on the exact winning probability of the hand you are folding with respect to the dealer's exposed card.
The early payout option will yield more than half your bet in some cases, or less than half in others. The bottom line is accepting the early payout is possible after players have hit, split, or even doubled. The other rules in this live variation by Visionary iGaming include:
The game is dealt out of six decks.
The dealer does not take hole cards but rather draws their second card after all players have completed their hands.
The dealer draws to soft totals of 17.
Doubling is allowed on any two-card total.
Doubling is possible after splits.
When players split aces, each ace receives only one card and the split hands then stand.
The software calculates the early payouts after each move players make.
https://www.luckycola.co/?referral=gg06908